FRANKWU
Science Fiction & Fantasy Art
Four-Time Hugo Award Winner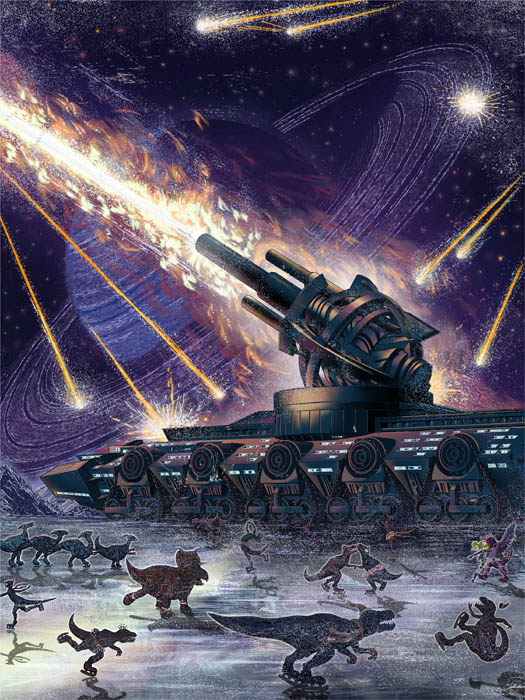 These images may contain hidden messages. Or not.
I commissioned Christina Sng to write poems for The Sad Girl, Resurrection Man, and Indifference and Keep the Universe Beautiful.
---
AUTOMATIC ART! To set your computer to bring up a new Wu image every 6 seconds, click here. (Only works well with hi-speed connections.)
EMAIL ME. Please tell me which piece you like the most. To see photos of me with various luminaries of the sci-fi world, including Ray Bradbury, Nichelle Nicholls, Anthony Head, Gil Gerard, David Gerrold, Joe Haldeman, Marcus Cole, Nana Visitor, Garrett Wong, Ellen Datlow, Vernor Vinge, Harlan Ellison, Gregory Benford, Hal Clement, Kim Stanley Robinson, Connie Willis, Bjo Trimble, Frank Kelly Freas, Bob Eggleton's hair, David Brin, Esther Friesner, Tim Powers, William F. Wu (no relation), Nina Kiriki Hoffman, Julie Czerneda, 4E Ackerman, Vincent DiFate, Val Lakey Lindahn and Ron Lindahn, Robert Sheckley, Kent Brewster of Speculations, Derryl Murphy of On Spec, Chris Butler, Marina Fitch, Mary Anne Mohanraj of Strange Horizons, Patrick and Honna Swenson of Talebones, Ken Wharton, Lori Ann White, Jay Lake, Eric Witchey, Fiona McAuliffe, Ray Vukcevich, Jerry Oltion, Kathy Oltion, the Bill from School House Rock, and many more, click here.
Images (c) 1998-2006 Frank Wu
---
SHORT BIO
Frank Wu is an award-winning artist, writer and animator. His animated film project Guidolon is a Godzilla parody featuring a giant space chicken. His Hugo award-winning fantasy and science fiction art has materialized in many magazines and fanzines, including Realsm of Fantasy, The SFWA Bulletin, Strange Horizons, On Spec, Fantastic Stories, Talebones, Darkling Plain, Altair, E-scape, and Nth Degree, plus the fanzines The Drink Tank, Emerald City, Argentus, Corrupt Marquee, and Challenger. His work has appeared in films such as Earthlings: Ugly Bags of Mostly Water (a documentary on Klingon) and the short Worm Free Society. He's also painted science fiction and fantasy art covers for books by Cory Doctorow, Jerry Oltion, Mark Siegel, Jennifer Barlow, Daniel Pearlman, and Jamie Rosen. 2003 saw the release of a small press book of stories by Jay Lake, illustrated by Wu; the collection is entitled Greetings from Lake Wu. Frank won the Illustrators of the Future Grand Prize and the 2004 Hugo Award for Best Fan Artist. (Thus Frank is the only Grand Prize winner in either the Writers or Illustrators of the Future contest who's also won a Hugo.) He also has four scientific papers on DNA replication to his credit, along with humor published in The Journal of Irreproducible Results and The Annals of Improbable Research. When not creating stuff, Frank can be found hanging out with monks, hunting for mastodon bones in New Mexico and dinosaur bones and fish fossils in Wyoming, holding Laura Palmer's diary, riding in banana-shaped mopeds, touching art when the museum guards aren't looking, searching for a river of molten lava to drop keys into, or walking the earth, meeting people, getting into adventures, you know, like Caine in Kung Fu. For a full list of his publications, click here.
EARLIER PUBLICATIONS (COMPLETE LIST)
2007
Just released is the new, Director's cut of our short animated film, The Tragical Historie of Guidolon the Giant Space Chicken. This is a film about a giant space chicken making a film about a giant space chicken. ... Also this year will see the publication of a short story I wrote for the anthology Visual Journeys, edited by Eric Reynolds. Instead of artwork done to illustrate stories, in this antho, existing artwork was "literated" by various authors, including me, in my first published story, "Worlds in Collusion: A Planetary Romance." Also in this book, authors literate four of my previously published pieces of artwork. ... I am also still doing art, including a piece for the Westercon progress report.
2006
SPECIAL SUPER-LUXURY EDITION of the book Greetings from Lake Wu (stories by Campbell Award for Best New Writer winner Jay Lake and art by me)! This beautiful artifact from the haute biblio press Traife Buffet has FULL-COLOR repros of the sixteen illos I did for this book (plus the stories, of course). It comes in a slipcase covered and lined with iridescent Thai silk, and the book is bound with twenty-four signatures so each page will lay flat. The pages themselves are 180g archival acid-free Japanese paper. This edition is limited to only 250 hand-crafted copies, each one signed by Jay Lake and me. Unlike the first edition from Wheatland Press, this is hard-cover, has full-color, is on acid-free paper, and includes three new stories and illos, in addition to artist and author introductions to each story! Even if this weren't a book with my art, I'd still think it's absolutely gorgeous - buy one now 'cos they're going fast!
The big project these days is an animated version of Guidolon, the Giant Space Chicken, which I am creating with a team of artists. I hope to sell this as a weekly animated TV show. ... Happy news! Two of my paintings - "Derelict" (for the SFWA Bulletin) and "Welcome Aboard" (for the 2005 Worldcon inflight magazine ION TRAILS) - are now in the collection of the Science Fiction Museum in Seattle! ... I started off this year being Artist Guest of Honor at Arisia in Boston. The highlight of that con for me was doing "Dueling Easels" with Bob Eggleton. I wore a T-shirt that said, "Bob, you're going down." We painted to a soundtrack Bob had brought, pausing in the middle of our alotted hour to play air guitar to "Stairway to Heaven." ... One of my dragon paintings - which I had painted in one day during a writers/artists retreat at the house of my pal Rebecca Inch-Partridge - appeared on the cover of Steve Upham's ezine Estronomicon. ... After that I did the cover art for the RadCon science fiction convention, in Pasco, WA, where I was artist guest of honor, Feb. 17-19. The theme was "alternative history," and I suggested to Jay Lake, the writer Guest of Honor, what if we did Lincoln on the moon? He said, OK, but only if the South wins and Lincoln's a zombie. Thus, "Sweet Zombie Lincoln on the Moon."... After that, among other projects, I'll be doing the cover art for Miscon, a sci-fi convention in Missoula, where I'll be Guest of Honor in May. ... In June, I went to the Licensing International Show in New York, pushing my Guidolon, the Giant Space Chicken project.
2005
For the final 2005 project, I finished up artwork for Arisia, the science fiction convention in Boston, Jan 13-15, where I'll be Artist Guest of Honor. That image has a dragon in a British Redcoat outfit, with tri-corner hat, destroying Boston. ... Another current project includes a cover and a set of interior art for Fantastic Stories. The stories include "Increments" by Robert Frazier, "The Case of the Haunted City" by Josepha Sherman, "Through the Looking Glass" by Terry McGarry, "Iron Horse" by Shariann Lewitt, and "Cast a Cold Eye" by William Barton. ... I finished up an illo for the story "Cloud Dragon Skies" by N. K. Jemisin for Strange Horizons. ... The previous project was a space scene featuring the SECC (Scottish Exhibition Centre) "Armadillo" building with rockets launching behind it. This is for the Worldcon this August. ... Earlier I finished up a space station painting for the upcoming hardcover novel How I Helped the Chicago Cubs (Finally!) Win the World Series, by Harper Scott. ... In May, I was Artist Guest of Honor at Baycon, and painted a program book cover for them, with a girl and a T-rex, along with T-shirt and badge art. ... I painted the cover for Nick Mamatas' chapbook of humor Lovecraftian poems called Cthulhu Senryu. ... I finished up a sci-fi painting I submitted to SFWA (Science Fiction and Fantasy Writers of America) for use as the cover for the next issue of the Bulletin. I use the term "painting" loosely, because the canvas board I used was made three-dimensional with bumps of glue, wood bits, etc. The image is a derelict alien spaceship orbiting a nebula (get it?). ... I started out the year with a little cartoon for Steve Silver's fanzine Argentus. He was doing a special edition on gameshows, and I contributed my take on less-than-perfect robots competing on Jeopardy! ... In 2006, I'll have a piece of interior artwork included in the anthology The Exquisite Corpuscle. This anthology is being edited by yours truly and Jay Lake and is essentially a literary game of telephone. ... At Corflu in February I did half a dozen sci-fi cartoons, for the Forman's upcoming fanzine "Corrupt Marquee," for Chris Garcia's fanzine "The Drink Tank", for BayCon (where I was Artist GOH) in May, for Chaz Baden's "The Bear Went Over the Mountain" fanzine, and I thought it would be fun to submit a piece for Pat and Dick Lupoff's fanzine "Xero," which hasn't been published in 40 years.
2004
I capped off the year with the cover for the Jerry Oltion book Paradise Passed, published by Wheatland Press. ... I also had a piece of sci-fi art on the LA Con IV (worldcon in L.A., 2006) website splash page, called "Heroes." ... My artwork of a Klingon spacegirl (sorry, grrl) rising from the water is being used for poster artwork for the film Earthlings: Ugly Bags of Mostly Water. This was my first movie poster. ... Earlier this year I did a cover for Nth Degree magazine for the story "Breakdown". ... I recently submitted an illo for Steven Silver's fanzine Argentus called "Killfish". ... Earlier this year I completed the cover for the Fundamentally Challenged anthology edited by Jeff Turner. The antho has stories wherein something we all believe to be true - like gravity working or the earth revolving around the sun - stops being true. In the cover illo, trees grow upsidedown. It's called "Mama, Put My Trees in the Ground." ... I've been a Star Trek fan my whole life, and I finally got to do a sanctioned Trek piece. I did a variation of the "I Want You" theme, with a killer Klingon spacebabe (girls are always fun to draw), for Lawrence Schoen's Klingon Language Institute journal. ... I also painted the girl on the cover of Gothic Wine, the latest book from Aardwolf Press. ... Star*Line poetry magazine no. 27.2 reprinted my image "The Sad Girl", which had earlier appeared in Talebones magazine. ... Talebones itself finally gave me a cover assignment (Thanks, Patrick and Honna!), so I did the illo "Ad Astra" for them. ... Over the Christmas holiday, I did a piece of fantasy art for the San Diego in 2006 Westercon bid, called "The Lounge Lizard, Elvissaurus, or Dino Marino". This is intended to appear on book bags. That sums up to about 19 pubs this year.
---
Images (c) 1998-2013+ Frank Wu except Frank R. Paul's work and the movie shots.
Site established 9/3/98. Additions constantly.
To send email to Frank Wu click
here
I am the Frank Wu you're looking for?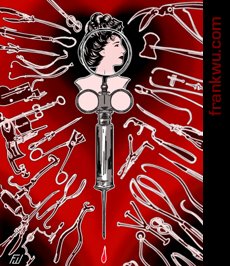 ---
If you would like to send me an email, please click here.